Details

Komar

Parent Category: Events
Hits: 75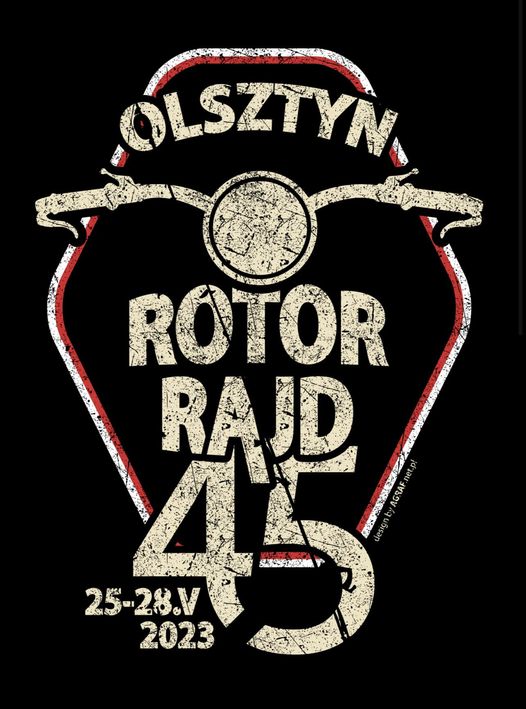 On May 25-28, 2023, the 45th Rally of Vintage Motorcycles ROTOR took place. It was the first round of the Polish Vintage Vehicles Championship ("MPPZ") in the motorcycle category. This year's base of the rally was located in the Waszeta resort near Olsztynek.
When I finished the 44th Rotor Rally last year, I told myself that no one would convince me to start this event again. I was very dissatisfied with the atmosphere at the 44th edition as well as the level of organization itself. At that time, I had a personal impression that the rally was prepared "careless" and "slapdash". As it happens in life, time passes quickly and before I knew it, I was faced with a decision: go to the 45th Rotor Rally or, remembering last year's shortcomings, stay at home? All in all, I didn't need much time to make a decision because my children decided for me that they wanted to go. Each of you knows that a trip with small children on a "vacation / rally event" is not a rest, but hard work where you have to keep your eyes around your head and organize time for your kids all the time so that they don't get bored. For me, going to Rotor is a big logistical undertaking. I have to cover 700 km on national roads with eternal traffic jam and chaos. A small car crammed to the ceiling with luggage and a motorcycle on a trailer dragged mercilessly along the repaired roads. In addition, bored children who do not know what to do with themselves in the car added their "three pennies". All the way I was praying for safe access and a moment of respite, even just during refuelling. Each of you knows that the most pleasant moment is the very end of the journey when you arrive at your destination and feel like a conqueror of unknown places. Masuria, Olsztynek, all these regions are a land out of this world for me. I am used to mountains and hills, so flat terrain and post-German buildings have always fascinated me.
Details

Spiker

Parent Category: Events
Hits: 43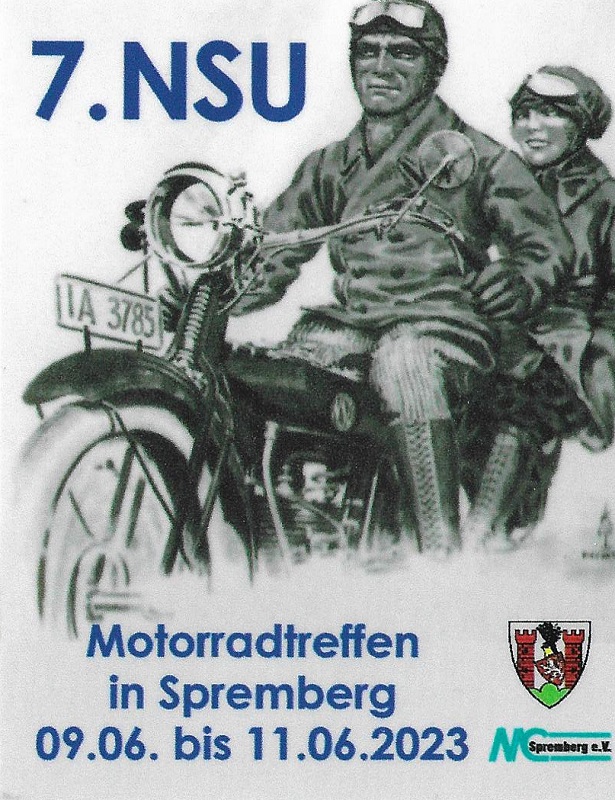 On June 9-11, 2023, the 7th edition of the NSU motorcycle rally took place in East German Spremberg (Brandenburg) organized by the local club MC Spremberg e.V.. For the first time, the representatives of our Polish NSU forum went to this event. Earlier, after establishing the first contacts with German colleagues at Polish events a few years ago, there were a lot of persuasions, plans and even attempts in our group that failed for various reasons. This time, however, we managed to gather a large group of volunteers, as many as 6 drivers (and 7 motorcycles) from Poland, which together with accompanying persons gave a team of 8 people. Our motorcycles were mainly OSLs from the late 1930s (models: 201, 2 pieces 251 and 351), but also one 501 TS (1931) and 502 T (1926). Due to the large distance we had to travel from eastern or central Poland, it was unfortunately not possible to travel by motorcycle. We had uncertain weather when we were leaving, but on the spot in the hospitable base of MC-Drom Trattendorf and later on the route of the rally there was only sunny, sometimes only slightly cloudy aura worthy of mid-June.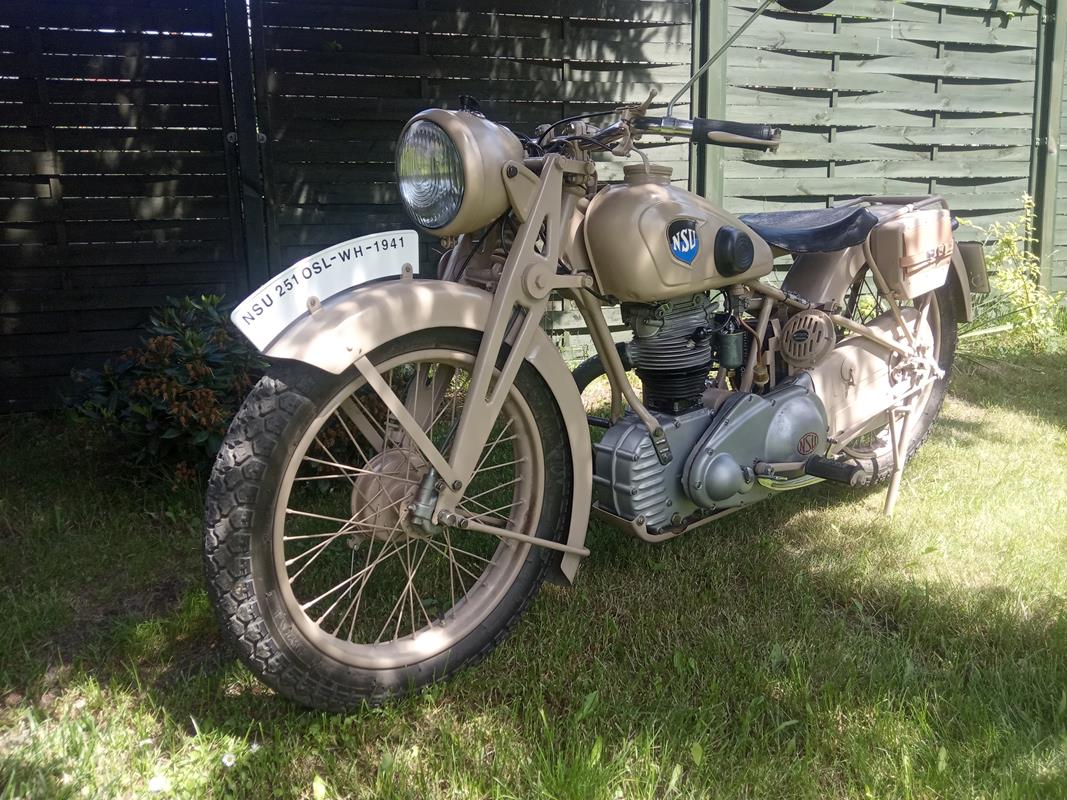 Jacek from Minsk's "Magnet" has been collecting NSU motorcycles for a long time, which are a springboard for him from faster riding on slightly younger motorcycles. This time he presented the newly completed 251 OS WH project. Previously, he had already restored another copy of the same model, but it was "from one piece", which was a great help. This time he undertook a more demanding reconstruction of a less complete copy of the "military quarter" (0.25l) from 1941. He did not avoid buying replicas of some parts, e.g. fenders. As it happens with replicas, it took a lot of time to fit them with the rest of the motorcycle. The carburetor was regenerated in a well-known NSU workshop in Lublin, so there is no problem with idle speed or regulation (to quote Jacek: "it runs like gold"). The motorcycle represents the war series, but still with aluminum casings of the drive unit and a typical Bosch lamp with an integrated ignition switch, but with a rocking seat (the popular "catapult"). However, the painting reflects a slightly later standard, i.e. a sandy color known as Dunkelgelb (in force since 1943 and according to some sources even since 1942). There is no mistake here, because vehicles from earlier years were successively repainted into new colors during the war, provided they survived the front conditions of course.